You won't want to be late for this very important date
As vaccines are being rolled out and life returns to something closer to the 'normal' we knew before February 2020, lots of us are beginning to dip our toes in the pool of activities that are beginning to open. For me, and my sisters, this included attending one of the new exhibitions at the V&A for the first time in, well, a long time. As someone interested in the art sector, but not by any means an expert on it, when my sister offered me a ticket to Alice: Curiouser and Curiouser I, without even looking at the website, accepted enthusiastically.
We all know Lewis Carroll's iconic story of Alice in Wonderland. I had no idea what the exhibition would entail, and was pleasantly surprised with its direction. I highly recommend checking out this exhibition before its closure on 31st December 2021 as I left feeling surprised, inspired and newly enamoured with this timeless tale and the zeitgeist it has become. It explores the origins of Lewis Carroll's book (AKA Charles Lutwidge Dodgson), its influence on art and film and even politics; even the impact all around the world across space, time, and cultures.
It is rare that there is truly something for everyone but here there is, which is telling of the global phenomena the story has become. An immersive and interactive exhibit, children and adults alike will enjoy exploring each room and walking through their very own Wonderland. There is even an interactive handout, great for keeping little ones engaged (though not limited to children!) in which by spotting a different White Rabbit in each room you can create your very own rabbit.
Down the Rabbit Hole, and back in time
Its tagline: "Delve into Wonderland" could not be more apt. The exhibition starts like any other; in this case, a relatively ordinary room in comparison to the rest. It explores the entwined history of Dodgson and The Liddell family. The youngest daughter Alice was 'the real Alice' and who the books were originally written for (and about). Although this particular part of the exhibition was at times a little tedious and made some assertions about possible influences from his life that seemed random and unrelated, it was definitely special to see the original book he wrote for Alice Liddell (in perfect tiny handwriting) as well as the original illustrations and concepts by John Tenniel. It is also near the end of this room that you can hear the familiar voice of the White Rabbit hurrying you along to explore…


"Exploring its origins, adaptations and reinventions over 157 years, this immersive and theatrical show charts the evolution of Alice's Adventures in Wonderland from manuscript to a global phenomenon beloved by all ages."

A Wonderland of…
Alice in Art
There is simply no denying Wonderland and its resident's influence on the world of art. There are whole rooms dedicated to the beautiful and bizarre artwork inspired by the fantastical nature of the books. Personal favourites of mine were seeing the concept art for the 1951 Disney adaptation by Mary Blair who has a distinct style most will recognise without realising.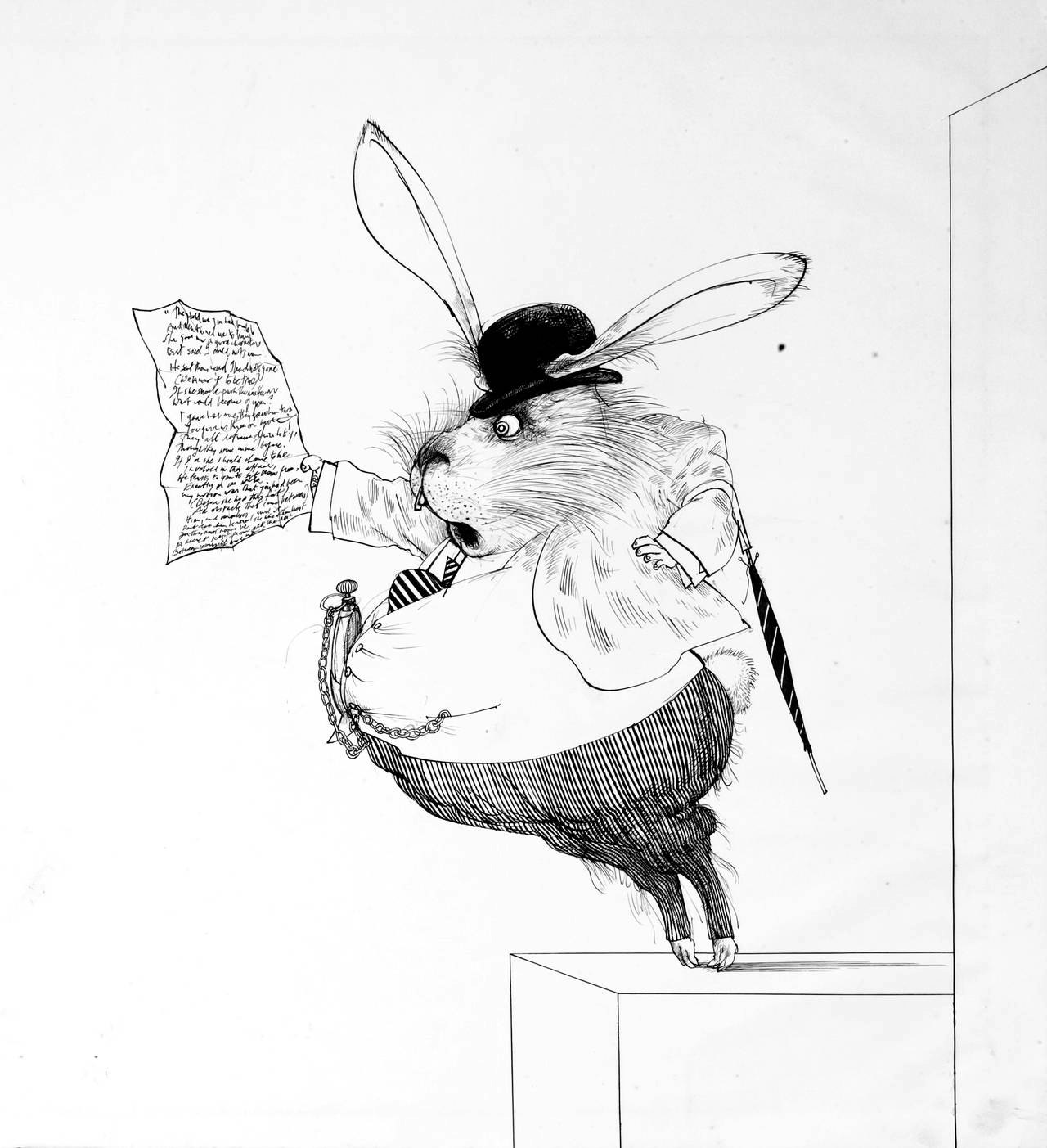 Dali also had influence, after working with them on a project called Destino, which was unfinished until 2003, however his Wonderland imagery left a lasting impact. The psychedelic movements of the 1960s were heavily shaped by Wonderland imagery, with creators like Joseph McHugh's poster design company producing kaleidoscopic pictures depicting The Cheshire Cat in one and The White Rabbit in another (which I loved so much I bought a postcard of!). Towards the end of the exhibit, there are also incredible portraits from Tim Walker's Pirelli Calendar shoot in which he chose an all-black cast including the likes of Duckie Thot, Naomi Campbell and RuPaul.

Filmic Re-imagination
Entwined with these works of art is the history of Carroll's story reimagined through film. The first attempt to convert this whimsical world from the pages to the screen was just five years after Carroll's death and was around ten minutes long. It is fascinating to watch clips from the films throughout the years dotted across the rooms to see the development of technological and cinematic ability to convey these fantastical concepts. Feast your eyes on sequences from the silent movies, to 1985 film Dreamchild and of course Tim Burton's whacky 3D 2010 adaption starring Johnny Depp.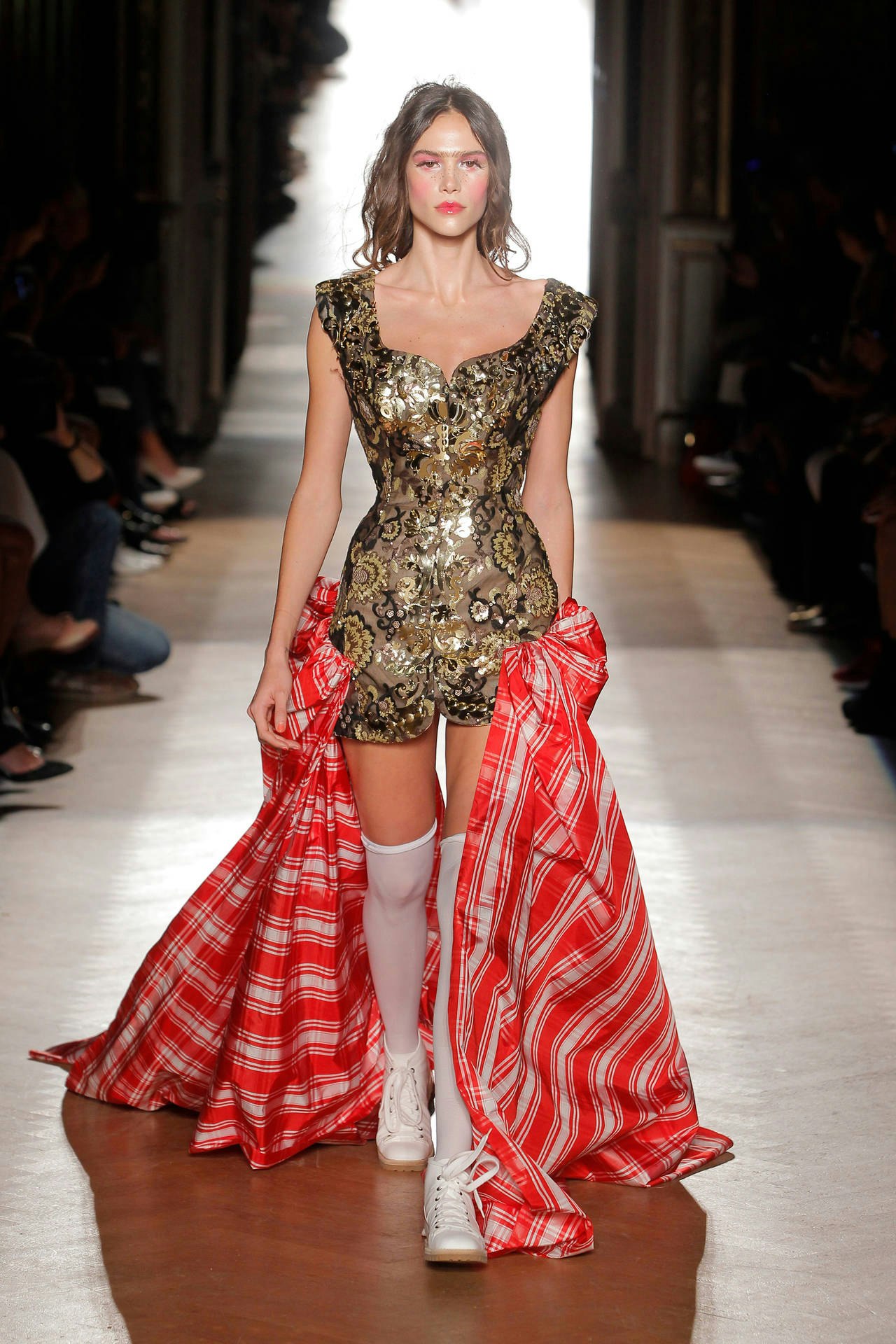 Music, Theatre, Dance and more…
Like I said, something for everyone. Equally as fascinating are sections on Wonderland's presence in music from Gwen Stefani to Little Simz; fantastic models of costumes from runway shows, theatre productions and the Royal Ballet, and haute couture creations.

...And if none of that interests you, you must be mad as the Hatter!
The exhibition itself offers an "immersive and theatrical show" and does not disappoint. From projection installations, to funhouse mirrors and things to peer into and touch as well as the incredible amount of staging and decoration; walking through this exhibition is truly like going Through the Looking Glass! You also can quite literally do this by trying their VR headsets, though we didn't try this ourselves as the wait time was 25 minutes by around 2pm on a Saturday.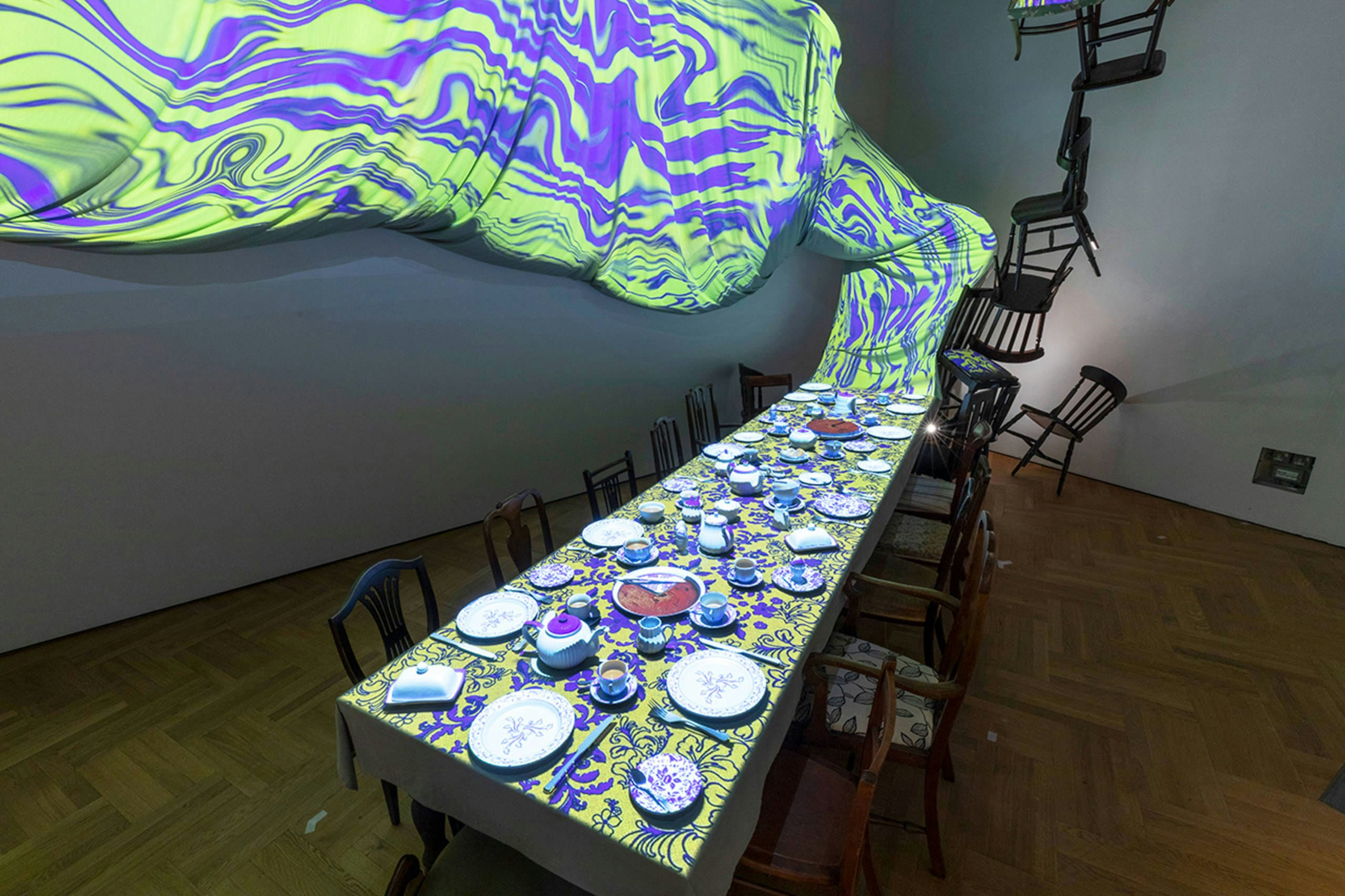 Lots of fun and food for thought
A few of the statements on the walls caught my eye, the assertion that Wonderland is often used as a lens for examining society is interesting and evidential in the many political caricatures derived from the motifs.
But mostly, the distinctly feminist and empowering feel was what I enjoyed the most. "From rabbit-holes to black holes, for the young and old, Alice is everyone and everywhere." One sign reads and I could not agree more, revisiting this story that had lived at the back of my mind since childhood has re-inspired me with its lessons in curiosity, independence and creativity. Alice lives open-minded, tackling strange adventures with autonomy and befriending absurd and wonderful characters through every form of art, her influence bleeding into reality and empowering every generation since.
One of the main things that surprised me was not only the global reach of the phenomenon of Alice and her friends in Wonderland but also the universality to all cultures, countries, and generations. Something about this tale, originally written for a little girl by her neighbour, now beloved or at least recognised by all, mesmerizes and engages everyone who consumes it. Perhaps we are all a little mad after all?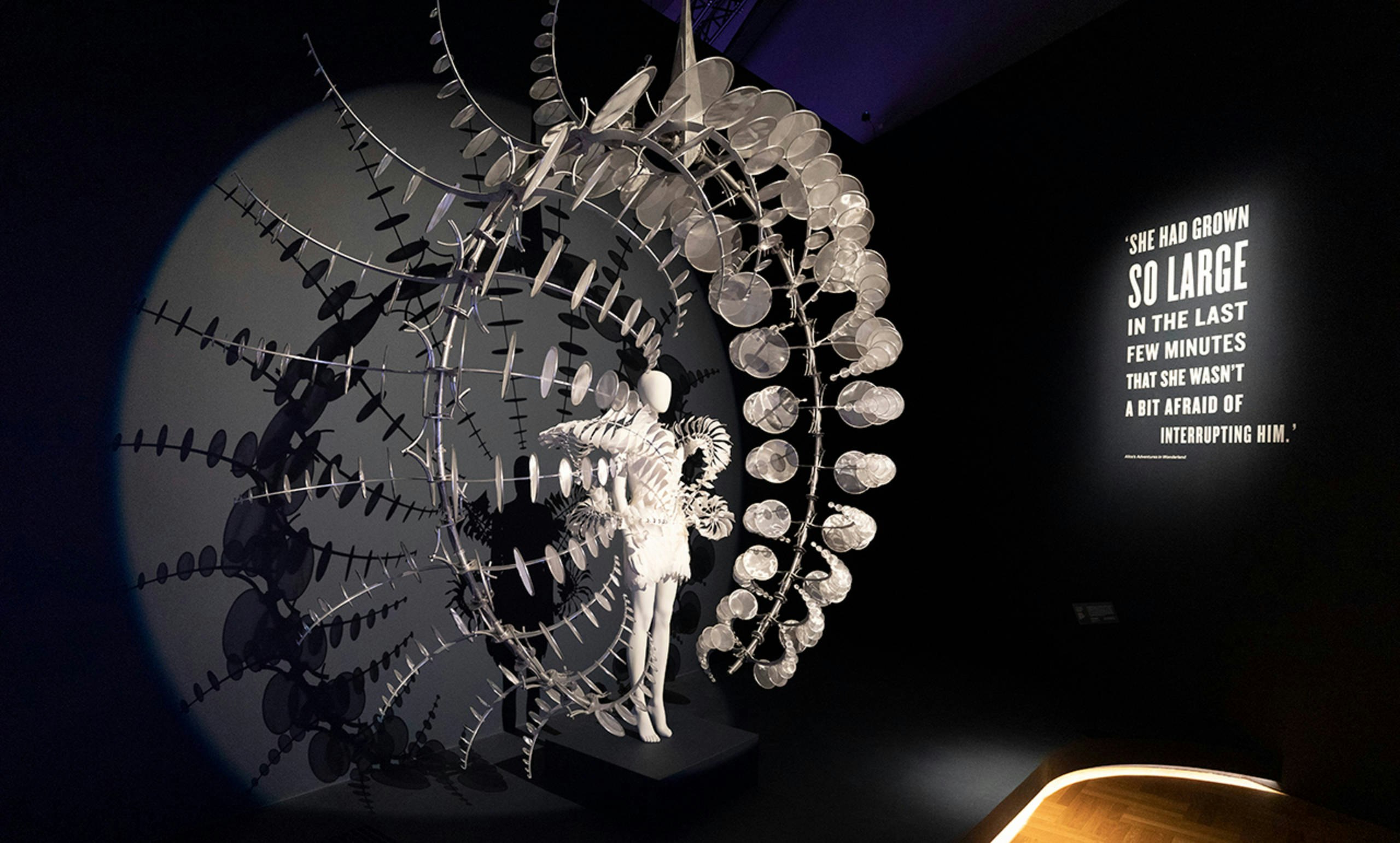 To sum up:
Would I recommend it? Absolutely, it is perfect for a day out in London.
How long does it take? We were there just over two hours, you could definitely spend more time in there as it is a long exhibition with so much to explore but I would say this was appropriate, especially by lunchtime!
Any drawbacks? The first section is not as enticing as the rest and my advice would be not to spend as much time here so as to not lose momentum at the later bits which are fantastic and definitely worth the time and attention.
Busy? I went on a Saturday at midday which is probably peak-time, it was busy but not unpleasantly so. I would recommend going on a weekday for quieter times.
Tickets are released every Tuesday at 12pm for the upcoming week, or book further in advance.
General admission for adults is £20, Kids and V&A Members are FREE, and students are £15. Other concessions apply.
Suitable for children, but just as fun for adults!
To book your tickets to the Curiouser and Curiouser exhibit visit their website.
Written by
Florence Boardman
Marketing Assistant

---
Edited by
Ben Lintott
Digital Marketing and Content Assistant
---
To find out more about what Big Egg could offer you or if you have any questions feel free to email info@bigeggfilms.com.
Or if you're interested in working with us, feel free to contact us by calling 07757 765547.
Finally, stay up to date with our various activities by joining our mailing list and connect with us on social media by searching @bigeggfilms or subscribe to our mailing list.