Looking for some gripping new watching to fill the end of the summer as the darker evenings loom ever earlier? Then look no further than this 3-part mini-series from the BBC, available on BBC iPlayer. Though be warned! This one is not for the faint-hearted as it is highly emotional and at times very violent. Time is a bleak, true to form prison-drama, soaked in regret and pathos. This limited series follows the main characters over 2 deeply transformative years on either side of the cell door. Although uncomfortable and even anxiety-inducing at times, it is a must see not least for the educational perspective on the shortcomings of our judicial and prison system as well as for the humanisation of the people subjected to it.

It follows two main protagonists, Mark Cobden (Sean Bean) who has been sentenced to 4 years in prison after accidentally killing a man whilst driving drunk and is racked with his own guilt and therefore accepts his sentence gladly as he is tormented every waking hour by his own mental manifestations of his victim and his wife.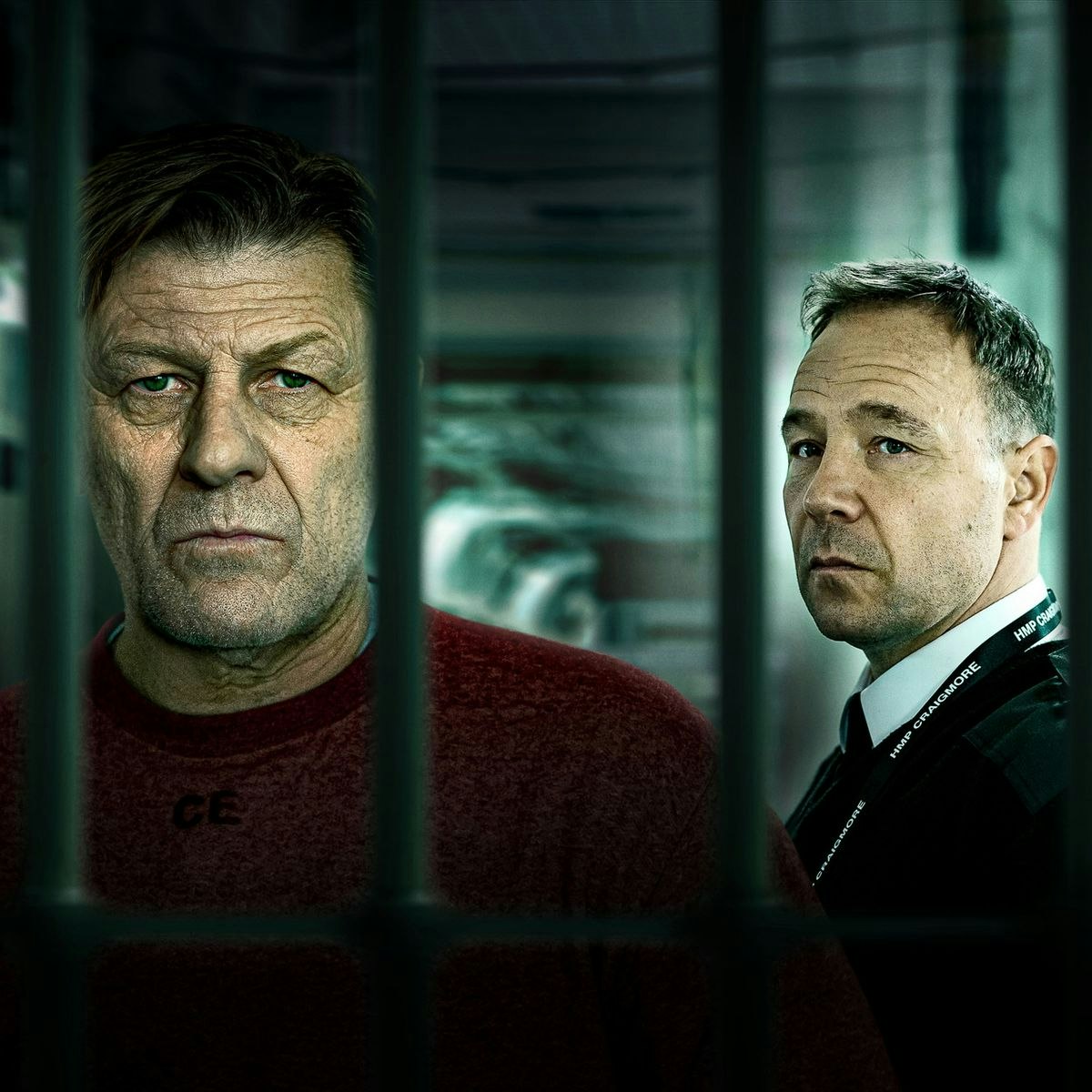 On the other side there is Eric McNally (Stephen Graham) a straight-edged prison officer with growing problems of his own; when a dangerous inmate learns of his biggest weakness and attempts to exploit it, it leaves him torn between protecting those he cares for and his reputation. We watch them both navigate prison life over time and undergo transitional, life changing events. Whilst their acting is impeccable, the show would not be complete without the fantastic supporting cast, full of familiar faces.
Some of the other inmates' sub-plots are equally (if not more) harrowing than our protagonists' and these stars provide some of the most powerful and emotionally hard hitting scenes in the show – it's worth repeating that this is not a cheery number but a sobering and intense journey.
Side-note here, although it is possible to binge watch it at only three one-hour-long episodes I am not sure I would recommend that as each episode is as intense as the last.

It has earned a deserving 8.3/10 on IMDb and a whopping 91% of google users enjoyed it, if that isn't enough to convince you (it usually is for me with IMDb!) then keep reading. Set around the Liverpool area in fictional prison HMP Craigmore it has the northern workings reminiscent of a Ken Loach-like kitchen sink drama and tackles social issues of that calibre. Fun Fact: although Craigmore is not a real prison, it is filmed in one, HMP Shrewsbury, which has been decommissioned as a working prison and is now a popular filming location acting as the set for shows including Coronation Street!

The cast, including the ensemble, mostly all boast impressive credits that are likely to entice you to watch if you're a fan of these actors. Stephen Graham of This is England and Line of Duty delivers a true-to-form fantastic performance of a hard-faced prison officer, or 'Screw' as the inmates call them, but also shows an empathetic more complex side to his character that reads as wanting to do good as opposed to just asserting authority and dominance. It is likely this was helped by his decision to shadow a prison-officer in real life to add authenticity to his portrayal. His wife and fellow This is England star Hannah Walters also plays his wife in the show. Sean Bean has starred in roles in Game of Thrones and Lord of the Rings to name a few as well as Curfew which producer Simon Maloney also produced. Maloney himself has a track record for powerful, hard-hitting productions as he worked on Michaela Coel's emotive I May Destroy You (also a must-see in my opinion). The director Lewis Arnold has worked on Broadchurch and Humans and I have to say having seen and loved both of these shows, his style is recognisable in its tone and slow-burning pace, categorised by long silences and ordinary mise-en-scene. The editing may not be flashy but it is used in such a way to effectively portray the sobriety and grittiness of the subject matter.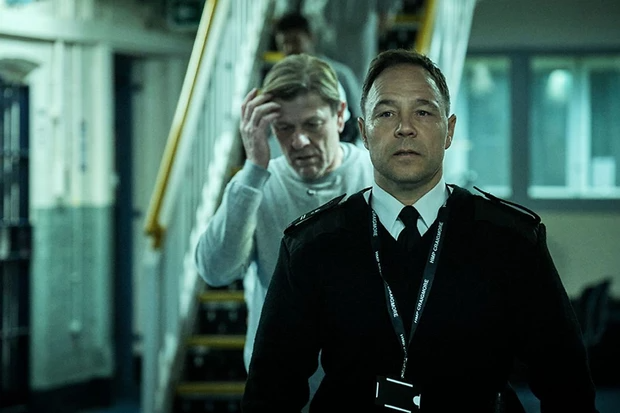 It is also worth mentioning the supporting cast which includes Jack McMullen of Waterloo Road but most notably in his credits I noticed he had starred in a BBC film a few years ago called Common which had come to my mind when watching Time because of its similar genre and themes but also the way it revealed some unfair aspects of our legal system, in this case the 'Joint Enterprise Law' but does not attempt to comment or fix them, simply showcase them. (I also recommend this film if you enjoyed Time and vice-versa) Other supporting cast members include Siobhan Finneran (Benidorm, Happy Valley, The Stranger), Brian McCardie (Line of Duty, Snatch), Nadine Marshall, Sue Johnston, David Calder, Kadiff Kirwan, Michael Socha… to name a few.

One of the most powerful things about Time in my opinion is the script. It feels authentic in that characters don't use flamboyant grand metaphors or anything like that, they quite simply speak volumes by not saying much at all. Mark's first cell-mate Bernard, who we are introduced to in the first episode, although quite clearly is severely mentally ill speaks a lot of truth. His paranoia that Mark has been sent in to spy on him due to his "case against the prison" is juxtaposed by the logic in what he later reveals that case to be. Asking Mark how many staff there are he says there are "not far short of a thousand," with "not far short of a thousand" prisoners costing what he quotes as "£30,000 a year" for just one prisoner but stipulating that whether prison works or not is of no consequence as it is "money going into people's pockets". His message is clear "you come in here bad and you go out worse". This is evident in one of the most heart-breaking storylines which is Daniel's, who McMullen delivers a stunning portrayal of; showing us the seamless transition from a young man with energy to fight to one disillusioned, corrupted and frankly failed by the prison system. His last lines to Mark in the third episode are enough to prompt tears as they begin the emotional denouement of the show.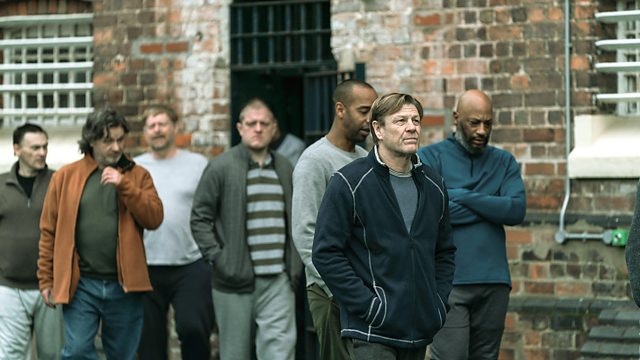 Like I said, its setting, lighting and tone are bleak and ordinary so as to emphasise the seriousness and sadness of the show. There are some nice creative touches such as non-diegetic text made to look like its written on the prison-wall marking the amount of time Mark has been in prison which doesn't undermine the tone of the show by being too much but does suggest higher production value. There is also a really powerful parallel drawn between a character in the third episode in the same prison van (no spoilers here!) we find Mark in the opening scene of the first which suggests this never-ending cycle created by the prison-system.
Sean Bean as Mark was a fantastic casting choice. He is so believable that at times one can forget he is acting. His face in every scene is full of remorse and self-loathing yet also that tiny glimmer of hope and drive to get through. Bean's portrayal of Mark as a caring teacher figure yet simultaneously childish and naïve at times, such as his inability to keep his head down or admitting things to officers that land him in hot water, is perfectly balanced. One can see the man he once was, and has potential to be again, and the side that has both caused and been caused by his excessive drinking. By the end of the series, it is clear to see he has once again grown up and re-matured in a sense and watching this character develop is emotional and satisfying as one can achieve a kind of catharsis here.
The plot is really well laid out, revealing the right information at the right time. I would say the one downfall for me was quite how violent some of the scenes are so I'll put a slight trigger warning there. However, whilst some of these come across as classic prison tropes, there's no doubt they're accurate and only serve to make the series all the more shocking, and certainly are not a reason not to watch.
I think I'll give it a 4.5/5 stars here. It is harrowing and sobering but at times uplifting and definitely a bit of a tear-jerker. I would really recommend checking it out, you may learn something about our justice system as well as enjoying this very well put together show carried by its fantastic cast.


---
Written by
Florence Boardman
Marketing Assistant

---
Edited by
Ben Lintott
Digital Marketing and Content Assistant
---
To find out more about what Big Egg could offer you or if you have any questions feel free to email info@bigeggfilms.com.
Or if you're interested in working with us, feel free to contact us by calling 07757 765547.
Finally, stay up to date with our various activities by joining our mailing list and connect with us on social media by searching @bigeggfilms or subscribe to our mailing list.